Circle of 4ths (四度圏表 iPhoneアプリ)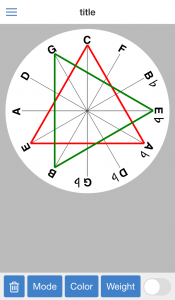 四度圏表を表示するiPhoneアプリを作成しました。無料です。
回転させたり線を引いたりできます。
http://itunes.apple.com/jp/app//id471252515?mt=8
四度圏表
楽曲の分析や演奏に役立つ四度圏表を表示します。
機能
四度圏表をタッチして回転させられます。
タッチして線を書くことができます。(Lockボタンを押します。)
音名から音名へタッチ&ドラッグすることで直線を引くことができます。(Lineボタンを押してGridモードにします。)
線の色と太さが変更できます。
5. 最後に引いた線を取り消すことができます。この機能をなくしました。
Circle of 4ths
http://itunes.apple.com/us/app/circle-of-4ths/id471252515?mt=8
It is an application which displays the circle of 4ths which is useful for analysis and a performance of a musical piece.
Reversing the direction of the circle of fourths gives the circle of fifths.
The function which draws a straight line by touching & dragging from a character(C-G) to a character.
The function which cancels the line drawn at the end.